Booking Now for 2018!
(Limited Availability for 2017)
Do you dream of a magical place, full of history, romance and unassuming southern charm…a gorgeous outdoor ceremony under a gracious canopy of heritage pecan trees…an intimate gathering, sweetly staged beside a century-old red barn…a tented reception in a field scented with freshly mown hay…or an authentic, rough-hewn post & beam barn gracious enough to host 300 guests?
With multiple lovely settings to host an outdoor wedding and reception, a 70 year-old 6,000 square foot event barn and a century-old 5,000 square foot farmhouse. . .the possibilities at Tune Farm are simply endless.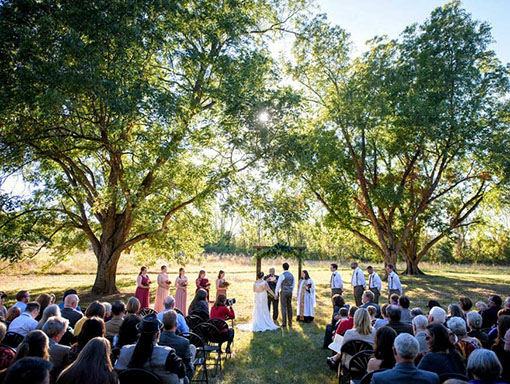 Tune Farm is located in the tiny whistle stop ghost town of Lacon (home to "Lacon Trade Day", a quirky and quintessentially Appalachian old-style flea market) in southern Morgan County, in the heart of Northern Alabama…just 45 minutes south of Huntsville and one hour north of Birmingham.
An ideal venue for your destination wedding…a stone's throw (less than a mile) from the Lacon exit on I-65, with easy access for you and your guests (no need to travel miles down dusty country roads)…and plentiful overnight lodging options available in neighboring Cullman, just 10 miles south on 1-65.
We are offering a "Special Introductory Rate" of $1,800 ($1,000 off our regular rate of $2,800!) for the "first 10 weddings booked" now for the remainder of 2017 and for 2018. Included are three full days of access to the farmhouse, grounds and event barn for photos, rehearsal dinner, ceremony and reception. For DIY brides, their families and friends, it provides ample time in a fun and relaxed environment to craft the details of an absolutely perfect wedding day!
Contact us to schedule a tour. . .experience the natural beauty and old-world southern charm of Tune Farm!
Tune Farm Weddings & Events
tunefarmevents@gmail.com
85 Old Highway 31
Lacon, Alabama 
tunefarm.org
256.784.5975
Tune Farm Navigation Menu