A brand new wedding venue on a historic farm. . .rich in rustic, old-world southern charm.
Tune Farm is offering a "Special Introductory Rate of $1,600" for weddings booked now for 2018 and 2019 — with "five full days of access" to the farmhouse, grounds and event barn for photos, rehearsal dinner, ceremony, reception – and decorating! We want your wedding to be more than just the "best day ever" – we want it to be the "best days ever"!
For DIY brides, their families and friends, these sweet days can be as memorable as the wedding day itself – working together to create your vision and ensure that every detail is exactly the way you want it at Tune Farm. Wedding preparation can be intensely stressful, especially if you feel rushed in any way – and we want all the creativity and preparation that goes into the creation of your dream day to be joyful and fun!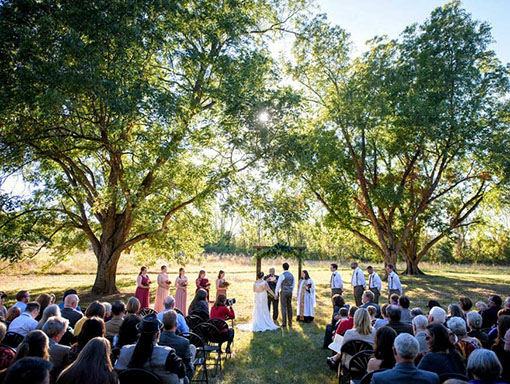 Located in the tiny whistle stop ghost town of Lacon (home to "Lacon Trade Day", a quirky and quintessentially Appalachian-style flea market) in southern Morgan County, in the heart of Northern Alabama, we are just 45 minutes south of Huntsville and one hour north of Birmingham.
An ideal venue for your destination wedding…a stone's throw (less than a mile) from the Lacon exit on I-65, with easy access for you and your guests (no need to travel miles down dusty country roads)…and plentiful overnight lodging options available in neighboring Cullman, just 10 miles south on 1-65.
Do you dream of a magical place, full of history, romance and unassuming southern charm…a gorgeous outdoor ceremony under a gracious canopy of heritage pecan trees…an intimate gathering, sweetly staged beside a century-old red barn…a tented reception in a field scented with freshly mown hay…or an authentic, rough-hewn post & beam barn gracious enough to host 300 guests?
With multiple lovely settings to host an outdoor wedding and reception, a 75 year-old 6,000 square foot event barn and a century-old 5,000 square foot farmhouse. . .the possibilities are endless.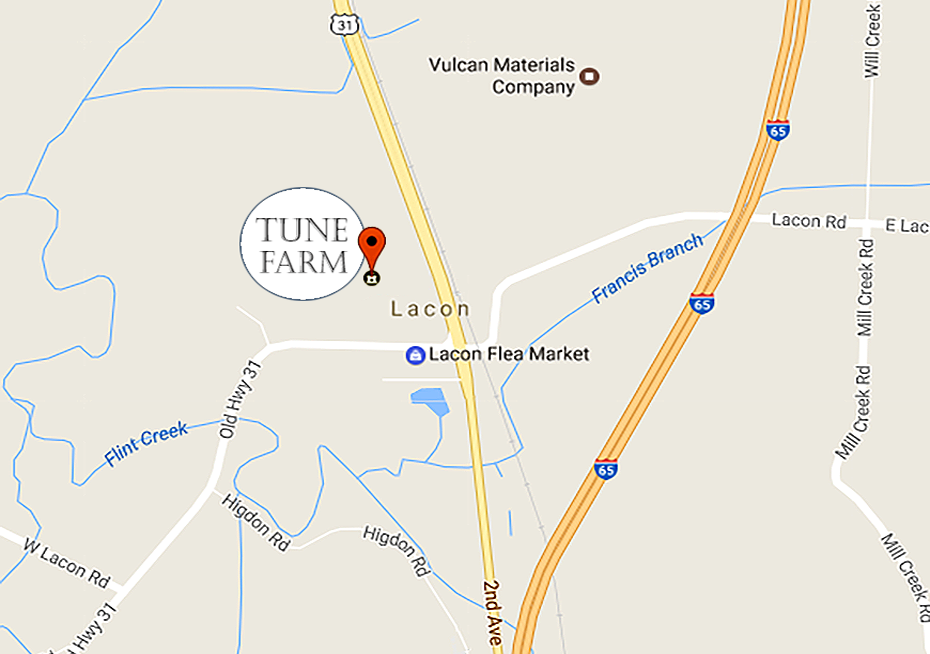 Tune Farm is Alabama's 1st certified organic farm…and is privately owned by the Tune Family, who have been faithful stewards of the farm's 260 acres of rolling pastures, forests, creek and wetland for over fifty years.
Tune Farm Weddings & Events
tunefarmevents@gmail.com
85 Old Highway 31
Lacon, Alabama
tunefarm.org
256.784.5975
Tune Farm Navigation Menu